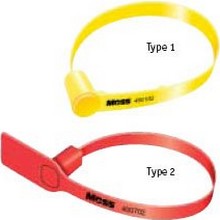 Fixed-Length Seals
Polypropylene
Highly flexible and versatile seal. Fixed-loop design. Double locking mechanism for enhanced level of security.
Type 1 with acetal locking mechanism for additional security.
Type 2 with identification tag for inclusion of additional information.
best.nummer
typ
Tie Size (mm)
Color
Antal st. per paket
pris/paket/pc
Pris per st.
längd
bredd
tjocklek
SECURE-1601
1
203,5
9,0
1,25
Yellow
1000 pc
5,1 kr
8,4 kr
SECURE-1701
2
202,5
8,0
1,3
Red
1000 pc
5,4 kr
8,9 kr

Prices are without VAT. If specified order number, please, it will add it to the selected type of goods. We will be glad to send you any quantity. In case of large subscriptions, please contact us.